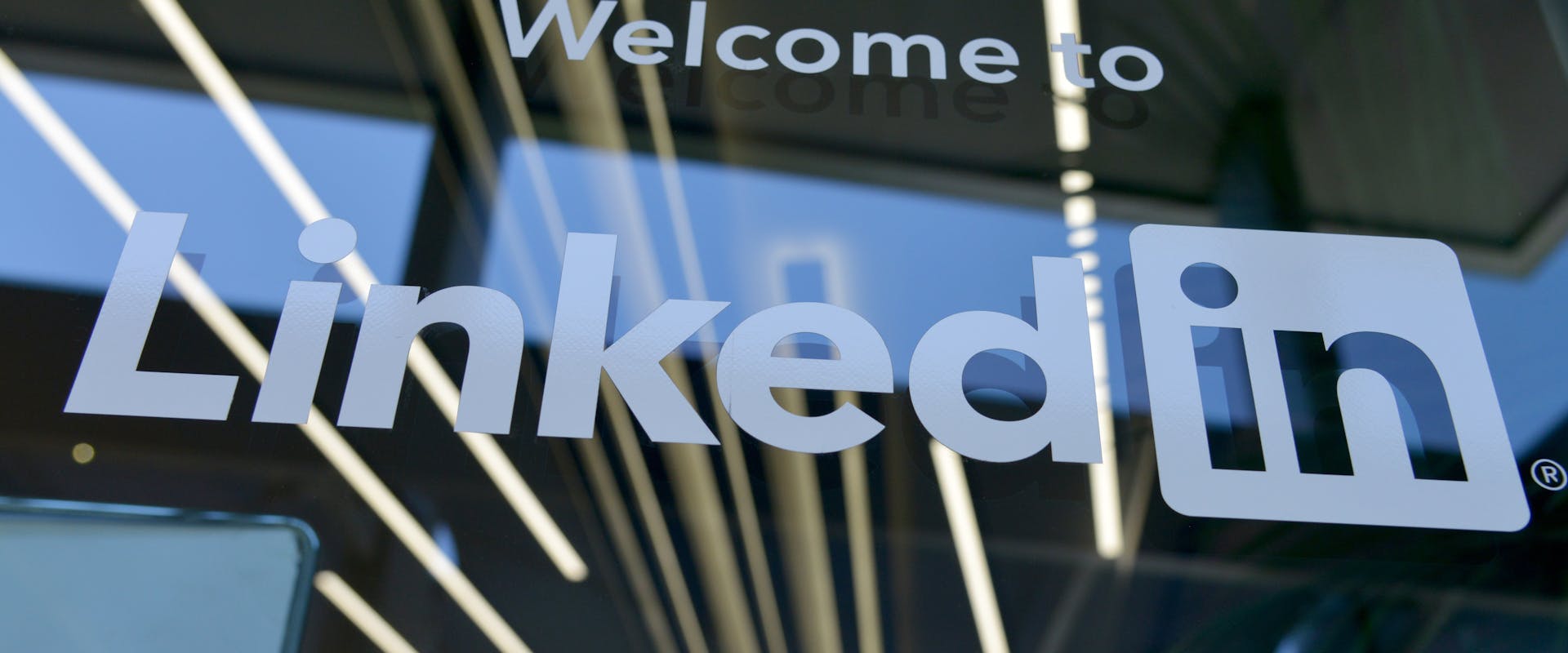 Digital Privacy
June 3, 2020
Privacy is an important subject when it comes to the internet. Keeping yourself safe online is good for you in real life as well as when you use the internet. Websites store your data when you visit them, and if you have an account with them, they store even more information about you. But there are ways to control what they keep about you in their systems. LinkedIn is an example of a website that is useful for finding jobs and networking, however they do allow you to adjust your settings in order to have better control over what recruiters may see about you or your company. The following guide will show you how to change your settings to keep yourself safe.
Whenever you do something on LinkedIn, it automatically shares to your timeline and will notify those that follow you that you changed your information about your job, education, and even work-related anniversaries. If you do not want people to be updated about this stuff, you can visit https://www.linkedin.com/psettings/privacy and turn off this option by clicking change. All of these options listed below have a change link that allows you to turn options on or off, or adjust specific things.

Also, under your Privacy settings, you can turn off notifying your followers when you are mentioned in other places as well as not allowing others to mention or tag you. Just turn off these settings below by clicking on change:

You can also turn off the ability for others to find you via your email address or phone numbers provided to LinkedIn under your Privacy settings. You can also 'improve your profile' by allowing LinkedIn to use your public data. You can change these settings along with the other two by turning them off below when you click on change.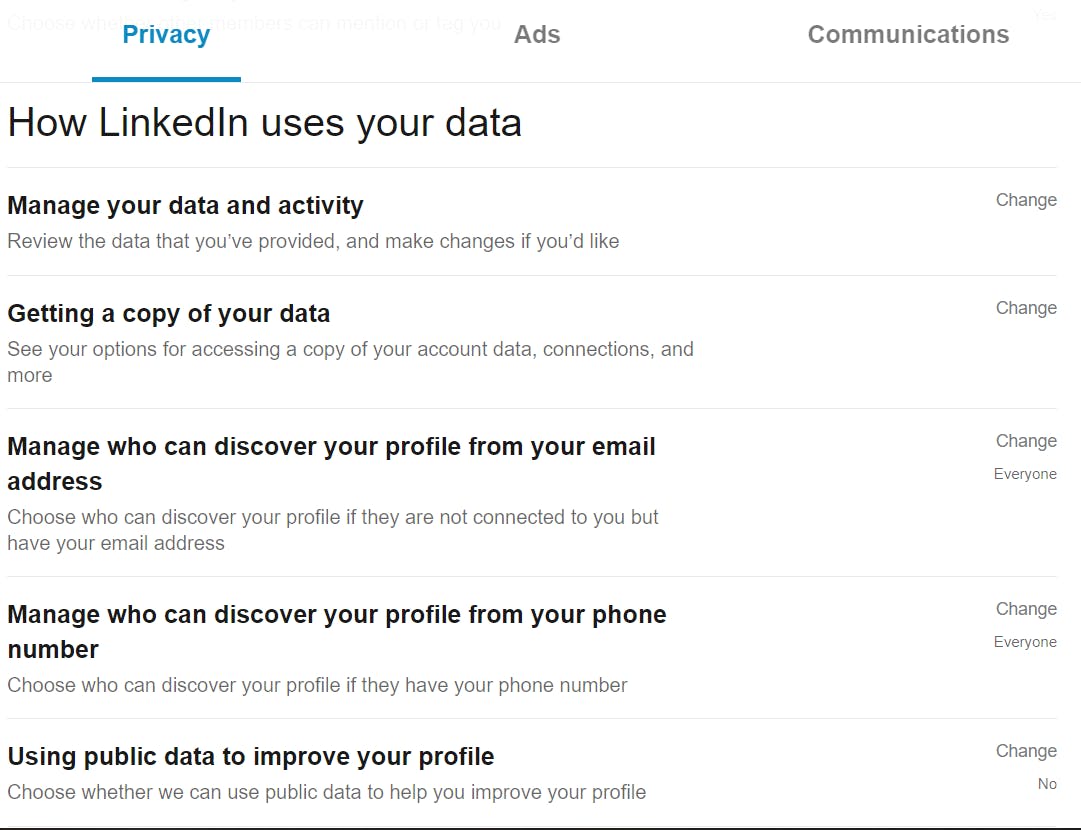 You can also choose whether or not to sync your contacts with LinkedIn, along with your calendar as well under LinkedIn's Privacy settings. You can also delete your salary information and any search history you have with LinkedIn. You can choose to allow or deny LinkedIn information about your personal demographics along with not allowing them to use your data in research for third parties. To do all this, click on change next to each option below.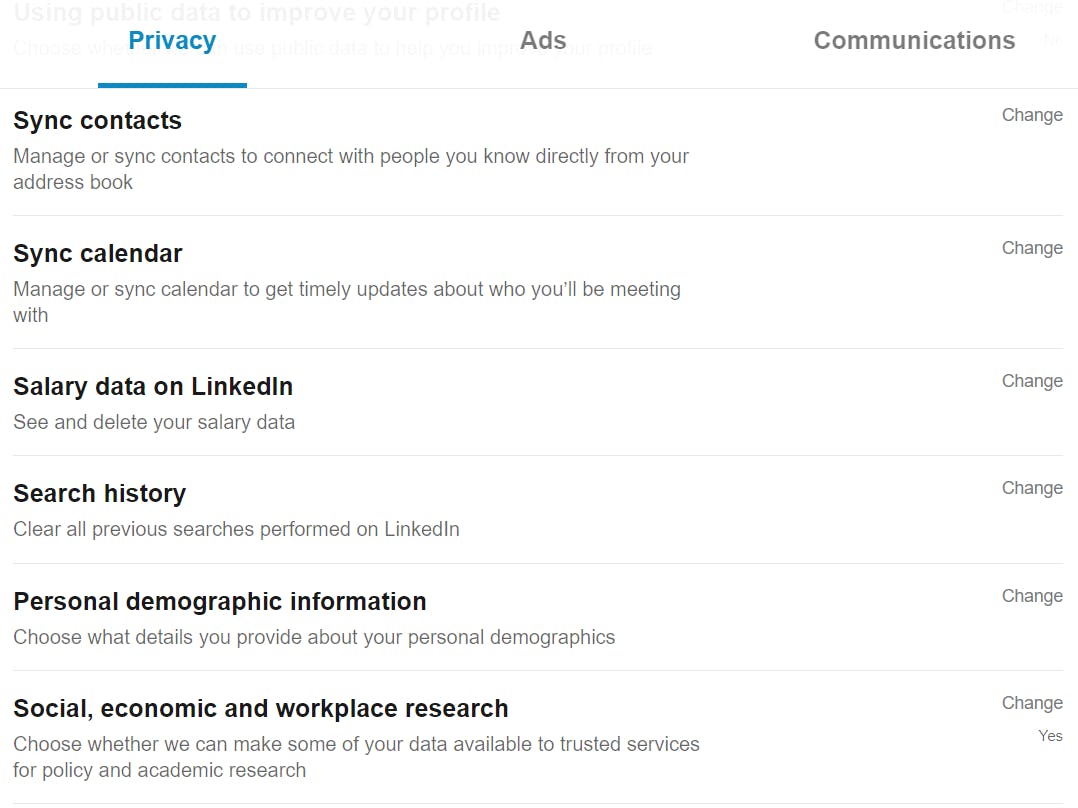 Also, under Privacy settings, you can edit your job application settings to choose what data LinkedIn saves when you submit an application to a job. You can also turn off sharing your profile when you submit a job application if you do not want a recruiter to see it. Click on change to adjust these settings.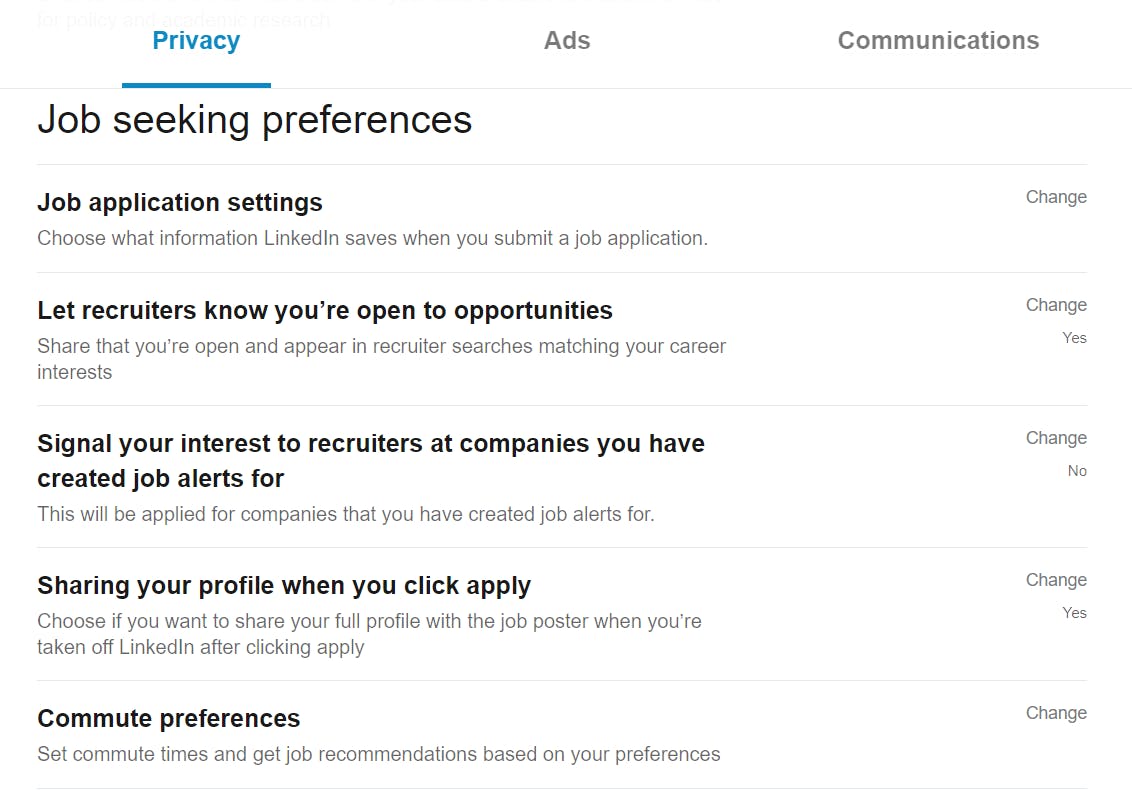 You can also choose who can follow you and who you do not want to follow you by adjusting these settings below under Privacy and clicking on change.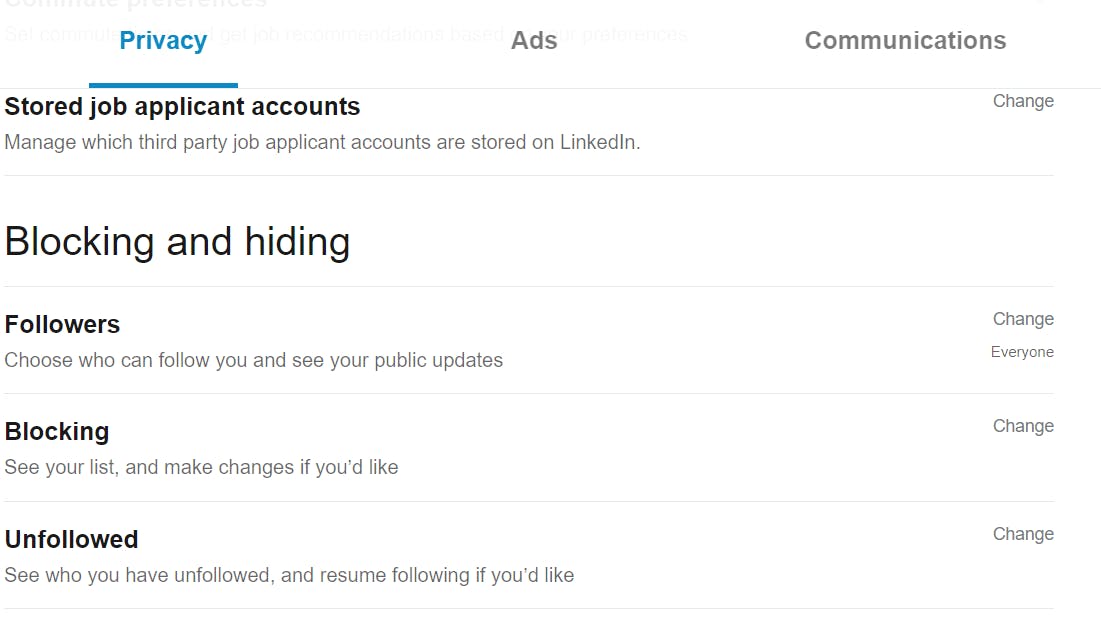 The next step to make sure your privacy on LinkedIn is under control by going to Ads next to Privacy or visit this link: https://www.linkedin.com/psettings/advertising and adjust how the ads appear to you and turn off interest categories to stop seeing relevant ads. You can also control what data LinkedIn collects on you and how they apply it to advertisements by clicking on change next to all these options below.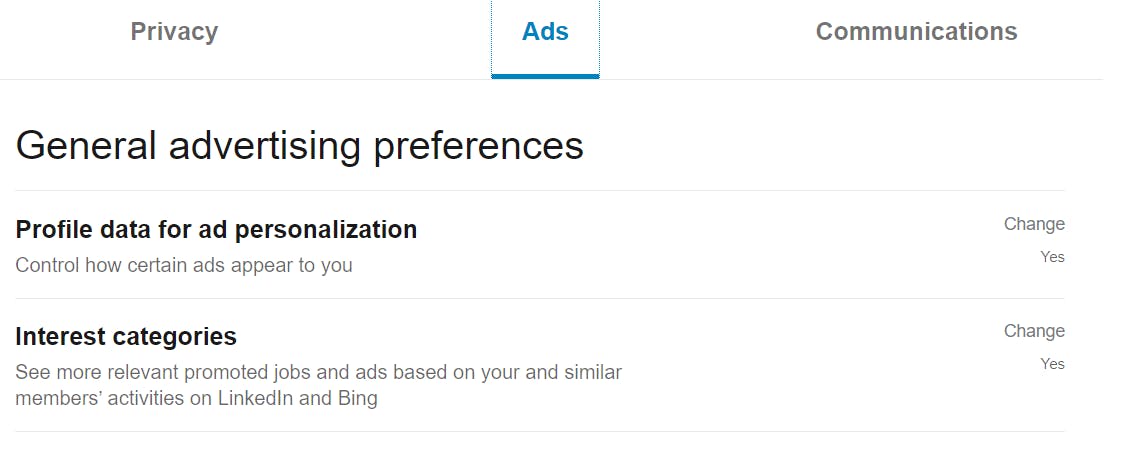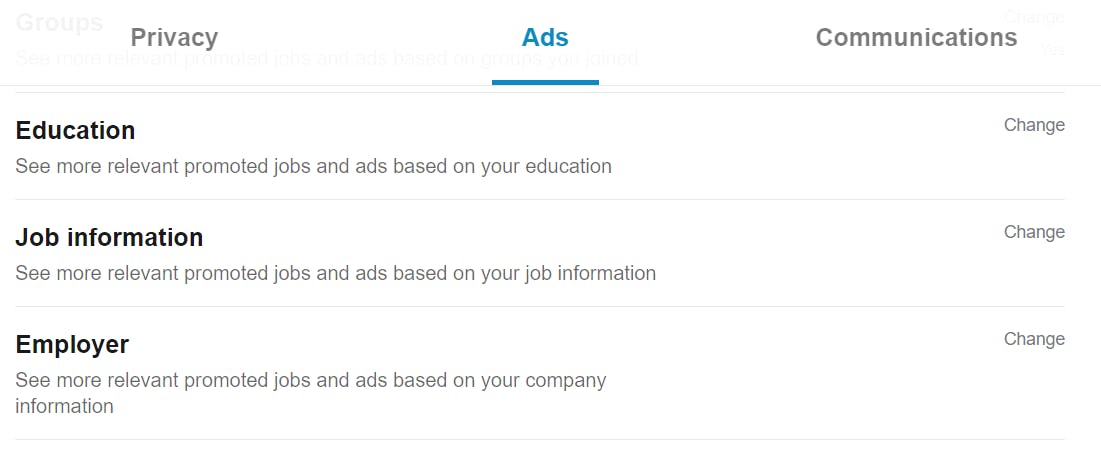 And finally, turn off sharing data with third parties by visiting the Ads section in settings and scrolling down to Third Party Data and turning all the options off by clicking on change.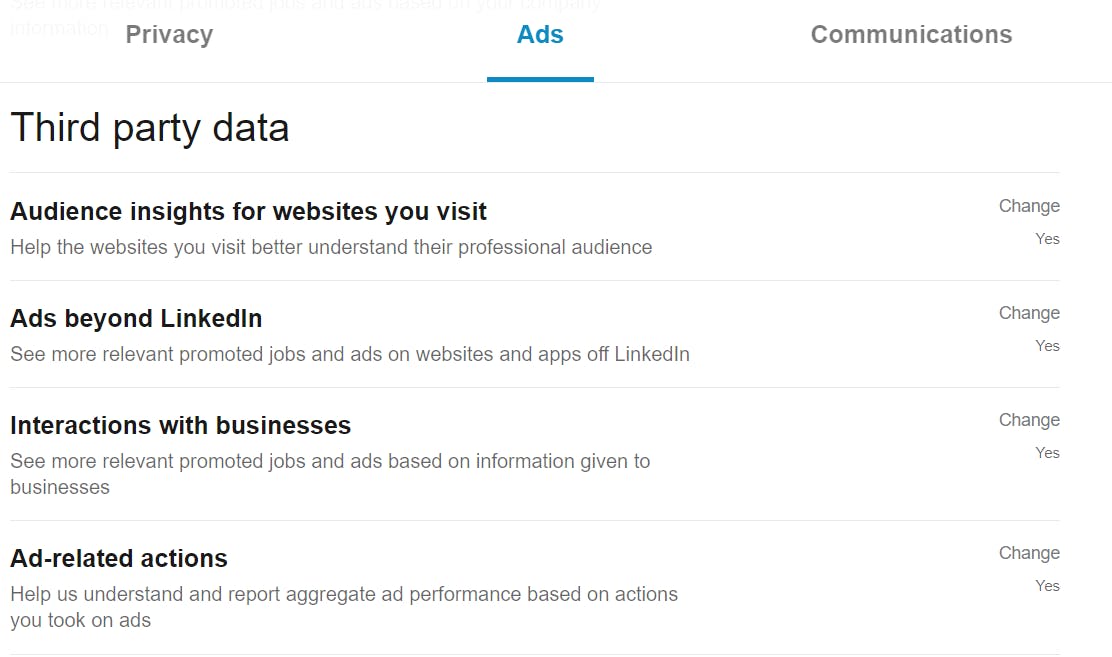 Keep in mind, adjusting any of these settings may change how you view ads or how recruiters and your followers see you. But for peace of mind, this can be a good thing to keep you safe online.